Co-regulation and the Path to Well Being
This post is all about better relationships, co-regulation and connection as the way to a greater sense of inner calm and well being.
​
One of the things that make me most sad about our current reality, is how much division there is everywhere.
​
Whatever goals are behind our "wars", whether in our society or in our personal relationships, there is a big price to pay for engaging in them.
​
Sure, we can't avoid disagreements or points of friction, but I've come to believe with all my heart, that connection must always be our highest goal and priority. (I even named my brand "Choosing to Connect"! 😀)
​
When I say connection, I don't just mean connection as we might know it from past experiences, but a whole new level of connection that is wanting to open up for us! ✨​
​
​Here's why I'm so passionate about this:
​​
​The Scientific point of view:
​On the biological level, science tells us that we are wired for connection. Our nervous systems feel most balanced, calm, and at rest when we are safely and positively connected with others.
​
There is an evolutionary basis to this deep need, because we come into this world utterly helpless. We need others for our survival.​
​
As babies and children, we are unable to regulate ourselves on our own, and we turn to people around us to meet our physical and emotional needs.👶
​
​This need for co-regulation continues as we grow up. It is both essential to our well-being, and also challenging to achieve.​
​
In order to feel safe with you, you need to feel safe with me, and we have to come into connection and regulate with each other!
​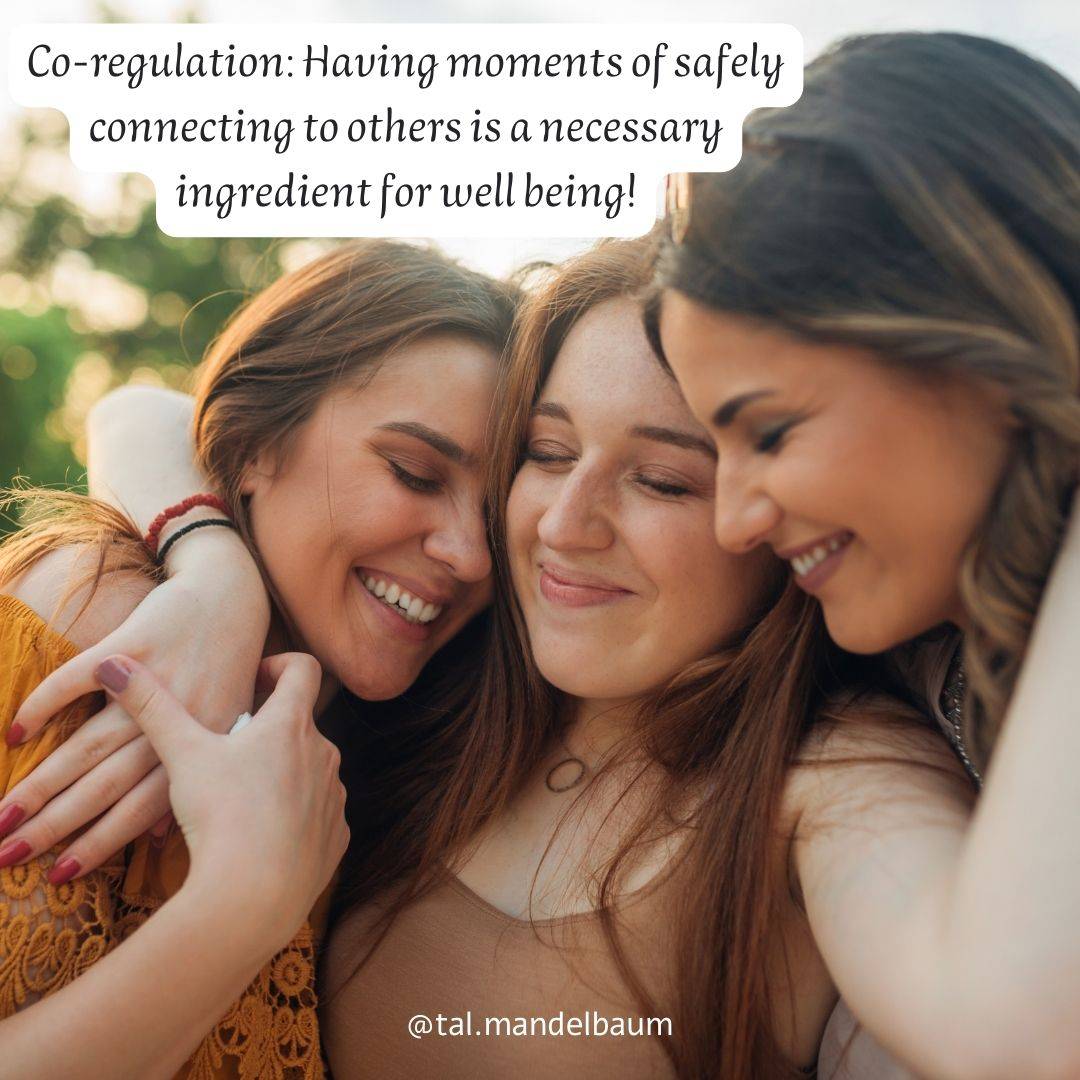 ​
​The challenge:
​As much as we need each other for co-regulation, to feel calm and safe, our world is increasingly moving in the opposite direction! It is focused on competition and self-sufficiency, while division and mistrust are constantly growing.
Whereas our forefathers lived in tribes and then communities, where connection and mutual support were ample, we live in individualized cultures where support is constantly waning 🙁
​
If you are a new mother, you know this! It's so hard to grow little ones without a community. 🤱
If you have even been in an argument over politics, you know it too! It's so hard to see our families and friendships torn by different views.
​
All the time, less and less people are choosing to marry or even date!
​
With waning social harmony and a growing overall uncertainty, it's no wonder we have epidemics of loneliness, depression, and anxiety in our times! 😔
​
​Ok, so what can we do? Why is this happening?
The Solution:
Remember, nothing is a coincidence! Nature has a plan. What this is showing us is that we need to find connection on a whole new level than before.
We can't go back to living in tribes, and we don't need to create connection in the same way. We have changed and become more separate, so that we would learn how to connect on a HIGHER level, and more deeply than before.
​
​This is the beauty of being human beings in our times. We have come to a point where our evolved individualistic egos are clashing with our built-in need for connection, only so that we would discover a whole new level of conscious connection between us (above our differences).
In this new level of human development our connection becomes our source not just of safety and well-being, but of higher purpose, and enlightenment.
​
The Power of Environment:
​To achieve this new level of connection and well being, I believe that in the midst of our chaotic world, we need to create environments that provide us with an anchor of safety and connection.
These environments are aimed at achieving higher levels of being through learning and practicing conscious connection and personal transformation.✨​
​
In such a group environment, participants learn the integral principles of love and relationships according to Nature. They have a shared goal of connection above differences, opinions and backgrounds. With this state of full acceptance, active listening and mutual support, the group becomes a vehicle for constant co-regulation, healing and self transformation.
Imagine if you had more safe connection in your life, a sense of belonging, an inspired "tribe" of people who want to grow together. What would it enable you? Does this sound like something you would want for yourself?
Comment below to let me know! ​
​
Here's to advancing together, towards well being, love and higher awareness,
​
With Love,
​
Tal